Moira Goatley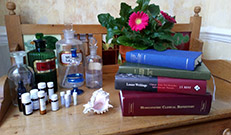 Moira trained in classical homeopathy at the Centre for Homeopathic Education, London and graduated with a BSc (Hons) and license to practise. In addition to offering general healthcare, she specialises in endocrine issues including hormone imbalance and thyroid conditions. She has used homeopathy to improve the health of young children through to very elderly people and has worked with entire families to support them in their health needs.
Homeopathy is a system of holistic medicine which involves treating the individual with the aim of triggering the body's natural system of healing. It is based on the principle that 'like cures like', that is, a substance which causes symptoms when taken in large doses, can be used in small amounts to treat similar symptoms. For example, drinking coffee can cause sleeplessness and agitation, so according to this principle, when the beverage is made into a homeopathic medicine, it may be used to treat people with sleep deprivation or anxiety. Homeopathy can be used for both chronic and acute health conditions.
Cost of consultations
Adults
The first consultation, which lasts approximately 60 minutes, costs £65.00 and includes 1 remedy. Follow-up consultations cost £50.00.
Children
The first consultation costs £40.00 and includes 1 remedy. Follow-up consultations cost £30.00.
If you have private health insurance your policy will usually cover homeopathy treatment as standard.
Other therapies: Moira is also a qualified Yoga teacher, Reflexologist and Aromatherapist and offers these services by appointment.
Booking an appointment: If you would like to book a homeopathy consultation at Daryl Herbert Osteopaths or would like further details about the other therapies please phone Moira on: 020 8529 4413. Moira is happy to see patients at a time to suit their individual needs.