Daryl Herbert - Teaching Osteopathy
Daryl first started teaching at the University College of osteopathy (UCO), formerly known as the British School of Osteopathy (BSO) in London UK, in the schools out-patients clinic in the year after qualifying.
After spending approximately three years working as a clinic tutor, Daryl gradually moved across to the Osteopathic Practical Skills or Technique department, first giving tutorials and for the fifteen years teaching the first year students. Daryl was responsible for co-ordinating the first year fundamental technique lessons, syllabus (handbook & DVD) and examinations including teaching and development updates with the staff who worked alongside him at the school. Daryl is now teaching the Advanced Spinal Manipulation Elective course to the 4th (final) year students, giving them a real insight into what Minimal Lever Mid Range Manipulation is, its advantages, how safe it is and how to get good at it.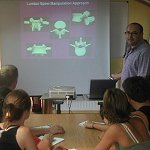 Daryl regularly teaches at a number of part-time Osteopathic schools in Europe, the Flanders International College of Osteopathy (FICO) in Belgium and the privat Schule für Klassische Osteopathische Medizin (SKOM) in Germany to name just two. He has also taught at Osteopathic Schools in Rome, Italy, and to Osteopathic Associations and groups in the UK, Australia, Canada, Denmark, Germany, Holland, Italy, Poland, Spain and Sweden.
Daryl mainly lectures and demonstrates Osteopathic Manipulative Techniques particularly minimal (short) lever mid range, multiple components, high & low velocity, low amplitude techniques, which are non-torsional, gentle, controlled and not traumatic. These ideas are built on top of foundation concepts that are well known to Osteopaths; patient care/handling, optimum use of operator posture and positioning. Daryl has developed his own style of teaching using an interactive approach to lecturing, demonstrating and tutoring and he uses the latest literature and research articles available and in the making to further understand and explain the neurophysiological mechanisms occurring within manipulation.
In addition, Daryl teaches with groups of Physiotherapists and Manual Therapists who are interested in improving their own manipulative skills in Denmark, Germany, Holland, Israel, Norway, Poland, Portugal, Spain, Sweden, Switzerland, the UK and the USA.
Daryl is happy to teach with many different groups in order to enhance the understanding of good, optimum manipulation skills to other therapists to ensure that manipulation continues to develop and grow and is a safe treatment modality to all that use it. For further details of what teaching Daryl can provide for you on an individual or group basis then contact him by telephone, fax, post or email.
Please contact us if you have any questions.