Rachel Valinsky-Miller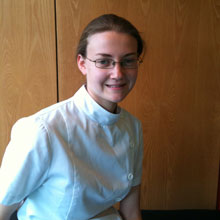 Rachel Valinsky-Miller B.Ost graduated from the British School of Osteopathy in 2009 and works in clinics across North London and Essex. She has completed post-graduate courses in cranial osteopathy and myofascial techniques. These use a light touch to find tension and strains within the body that can then be treated. Due to the gentle nature of the techniques this is the preferred method for treating babies and young children but it is safe and effective for all ages.
Rachel uses a full range of osteopathic techniques and treats patients of all ages with a great diversity of problems, whether it be helping an athlete to overcome an injury or an elderly patient to improve their mobility.
Please contact us if you would like to arrange a treatment.